Customize Q&A and Fallback¶
In addition to driving a conversation based on the main chat flow, an AI chatbot must handle user questions or side-talking raised any time during a chat. To enable a chatbot to do so, Juji allows the customization of Q&A and fallback. Such customization enables Juji chatbots to answer user free-text questions, handle user digressions, and even chitchat socially, anytime during a conversation.
Handle Free-Text Q&As¶
Using the Q&A Board, one can support custom, natural-language Q&As, monitor, and manage unanswered user questions encountered during a chat. Below is an example of a Q&A board: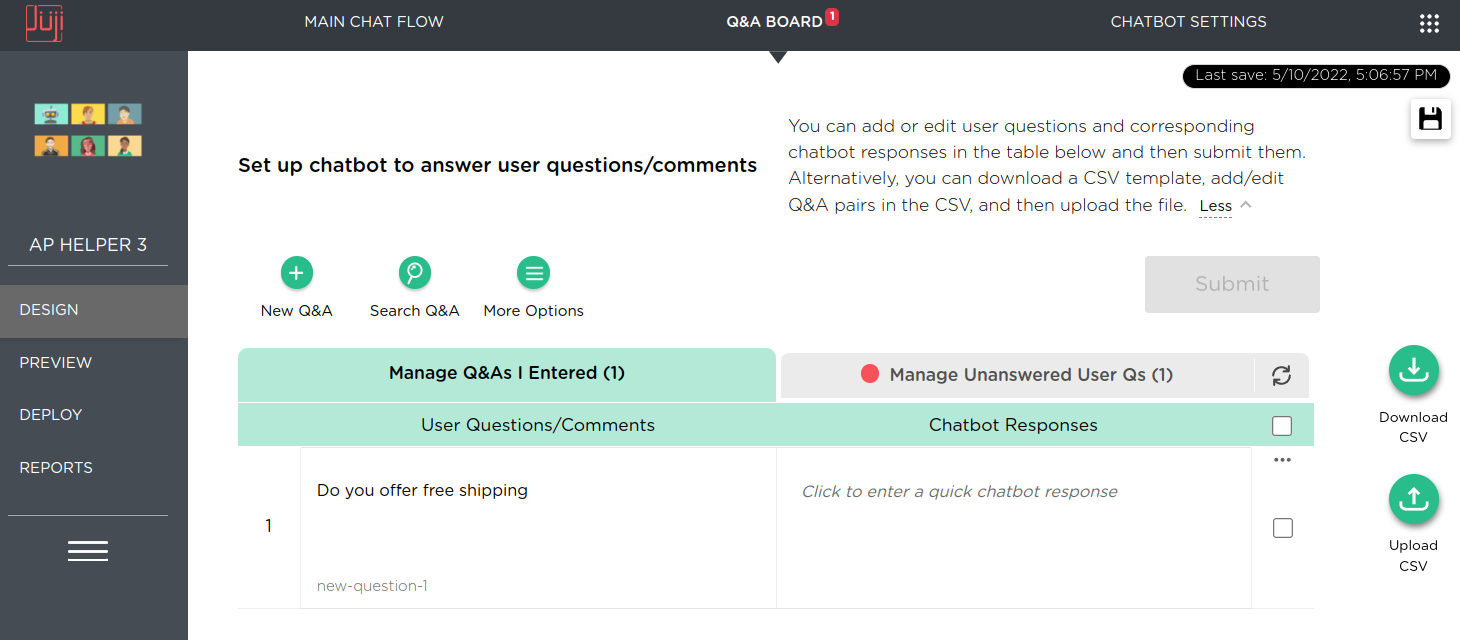 On this page, one can enter a custom Q&A pair directly in the table (using the green + button to add) or upload a CSV file containing a Q&A list. The above screenshot also shows that there is one unanswered user question (indicated by the red badge displayed next to the Q&A Board). Juji automatically detects unanswered user questions and displays such questions on the Q&A dashboard.
Upload Q&As CSV¶
IMPORTANT TIP If you decide to put all your Q&As in a CSV file and then upload, download the CSV file first as it contains the required file format to fill in your Q&As.
As shown below, each template includes four columns:

First three columns must be preserved. Although the first column (ID) can be left empty, it must still exist and cannot be deleted. Besides, other optional columns can be used for additional functionality. All columns order must be reserved.
ID You can use this column to give your Q&A pair a name/label. If you don't provide an ID, Juji will automatically generate one. This label is especially useful to group all varied question expressions into the same question. This way you don't need to duplicate the answer for each varied expression. For example, rows 2-3 and rows 5-6 represent two sets of Q&As. Moreover, they also share all the alternative answers (see below).

Question Questions and their varied expressions.

Answer Answers. You can enter alternative answers to the same question. This will make your chatbot sound more intelligent. When there are alternative answers, a chatbot randomly chooses one to use when answering a matched question.

Comment (Optional) Comments.

Multi-turn Q&A (Optional) Multi-turn Q&A key. The specified multi-turn Q&A will start when the Q&A is triggered if the Multi-turn status is active.
# of asking (Reporting) Number of times the unanswered question get asked. Change in this column has no effect on the Q&A.
Tag(s) (Optional) Tags for the Q&A.
Multi-turn status (Optional) Status of the multi-turn Q&A, can be inactive or active.
It's important to make sure the CSV file is saved with .csv extension and UTF-8 encoding for the best performance. The file format and encoding can be updated in save as or export as options in both Microsoft Excel and Numbers.
Support Social Chitchat¶
In addition to answering user questions, you may want your chatbot to support social chitchat, e.g., responding to user casual comments. Similar to handling Q&As, you can enter user comments (e.g., you are really smart) and corresponding chatbot responses (e.g., Thank you, I'm flattered). During a chat, whenever users make matched comments, your chatbot can then respond to them.
Below shows an example of custom social chitchat. Whenever a user texts expressions similar to those indicated under ID Humor (B8-B10), the chatbot will tell a joke by randomly picking one from cells C8 and C9:

IMPORTANT TIP Juji already provides rich, built-in social chitchats. We recommend that you observe the behavior of your chatbot first before adding any custom user comment-chatbot response pairs.
Additional Resources¶
Please refer to the additional resources listed below on how to support Q&A including complex Q&A that may require multi-turn interactions between a user and your chatbot. Since AI is far from perfect, also check out the reading on how to monitor unanswered user questions and how to improve your chatbot constantly.
Video Tutorial¶
Below is a very short video that shows how to create or update a Q&A list:
How-to Guides¶
What's Next¶
Once a chatbot is ready, you can deploy it onto a website or a Facebook page. Please check out Chatbot Deployment to deploy your AI chatbot. If you wish to further customize your chatbot, such as its persona or other settings, please refer to Customize Chatbot Persona.