About Juji Platform¶
Juji platform enables the creation, customization, and operation of a new generation of Conversational Artificial Intelligence (AI) Assistants. Currently, these advanced AI assistants engage users in a text-based, natural language conversations to accomplish a wide variety of tasks, such as answering user inquiries and making personalized product recommendations. Also known as AI chatbots, these AI assistants can handle complex and diverse user inquiries, infer users' implicit needs and wants, and use such understanding to deliver truly hyper-personalized guidance and services.
As shown below, Juji platform includes three main components, which can be used alone or together to suit different application needs.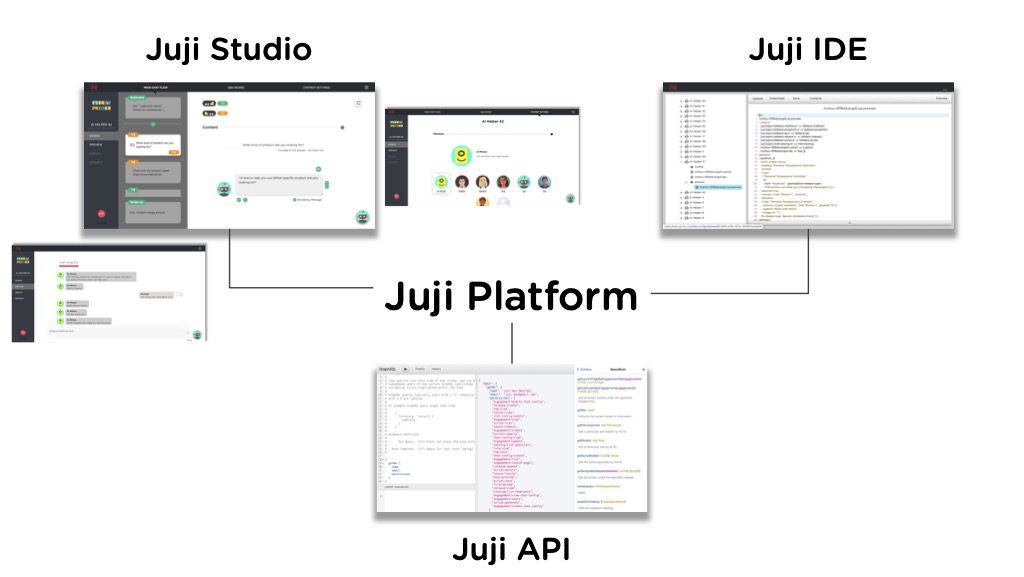 Juji Studio provides a graphical user interface (GUI) for everyone, with or without technical skills or AI knowledge, to rapidly create, customize, test, and deploy AI chatbots with no coding required.
Juji IDE enables people with minimal coding skills (e.g., ability to write HTML) to power AI chatbots with advanced capabilities (e.g., customizing product recommendation policies). It provides an interactive development environment that allows chatbot developers to write, compile, and preview AI chatbots using a high-level, chatbot scripting language.
Juji API enables software engineers to embed AI chatbots in different applications (e.g., mobile or web-based applications). While Juji Studio supports the rapid creation and customization of an AI chatbot, Juji API allows rapid and easy integration of such a chatbot into third-party applications.
Get Started on Juji¶
As shown in the above tutorial video, getting started on Juji is straightforward. Below summarizes the key steps to create and deploy your first AI chatbot on Juji in just a few minutes.
Create an account¶
Sign up here and follow the simple steps to create a Juji account with only a working email.
Create First AI Chatbot¶
After signing in, you can now create your first AI chatbot. Click on the red + AI Helper button and follow the process to select Say hello world template.
Preview Chatbot¶
Now your chatbot is ready to have a conversation with you. Just say hello to it as you have just met a person.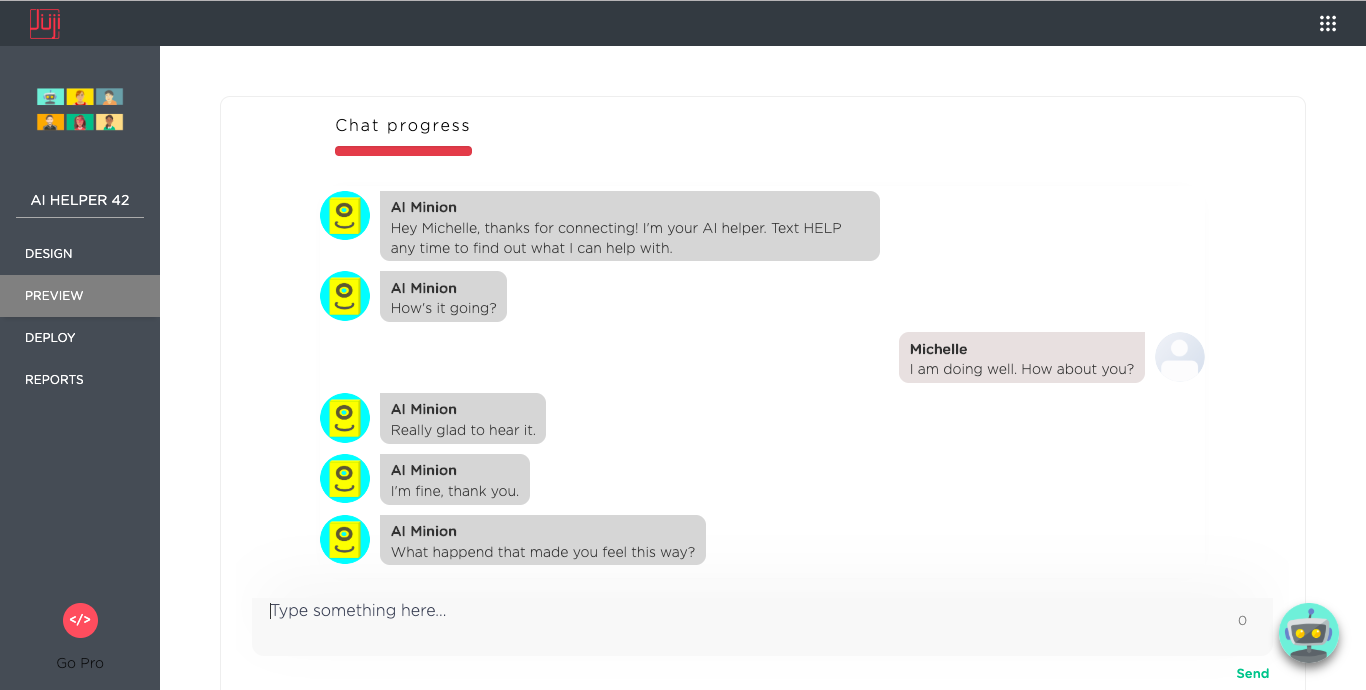 Deploy Chatbot¶
By clicking on the Deploy button on the left menu panel, you can now publish the chatbot with a few clicks to meet your audiences on Facebook or the web.
Your first AI chatbot is now live
You chatbot can now engage with your target audience on your Facebook page: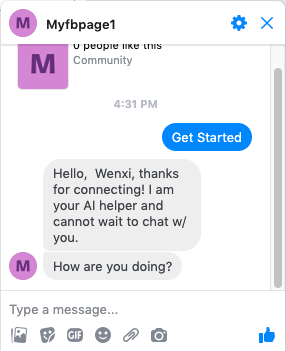 or your website: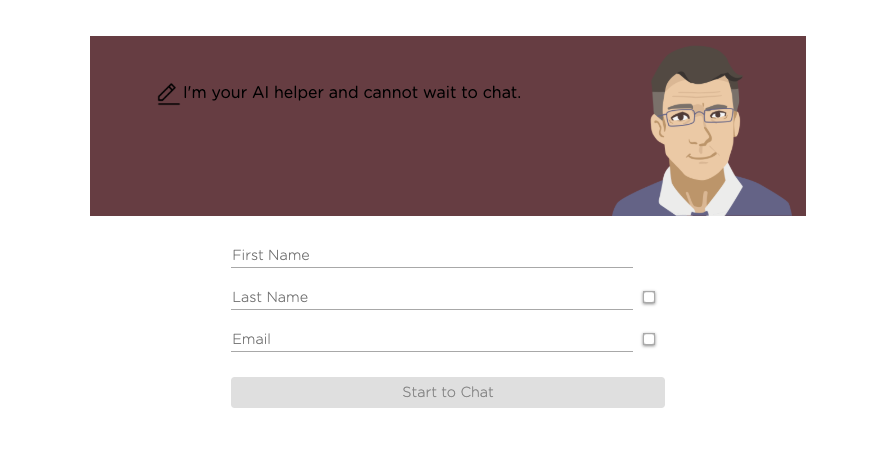 Monitor Chatbot¶
Juji also helps you monitor your chatbot activities and summarize audience information. Check out Reports Dashboard for more details.
What's Next¶
Your AI chatbot can be very powerful: it can help you scale out traditional labor-intensive operations with a personal touch. For example, your AI chatbot can handle customer inquiries, make personalized product recommendations, and elicit customer reviews, 24x7 and always with a cool and upbeat attitude
Now proceed to customizing the chatbot to suit your needs.